From the bloodiest three-day battle of the American Civil War comes these two snippets from boys in the 4th Texas Infantry.
It was a mass of rock and boulders amid which a mountain goat would, have revelled, and being subjected to a fire on our left flank, made it a most dangerous and unsafe place for a soldier, and many a fellow reminded me of the alliteration, "Round the rude rock the ragged rascal ran."
– John West, 4th Texas
At Gettysburg that night, it was about seven devils to each man. Officers were cross to the men, and the men were equally cross to the officers. It was the same way with our enemies. We could hear the Yankee officers on the crest of the ridge in front of us cursing the men by platoons, and the men telling him to go to a country not very far away from us at that time. If that old Satanic dragon has ever been on earth since he offered our Saviour the world if He would serve him, he was certainly at Gettysburg that night.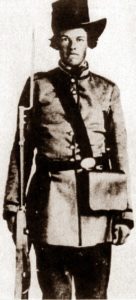 – Val Giles, 4th Texas
Mister Giles, shown right, skillfully crafted words describing this part of the battle. Read the more complete description. [deadconfederates.com]
His book is Rags and Hope, The Recollections of Val C. Giles, Four Years with Hood's Brigade, Fourth Texas Infantry, 1861-1865. Here is Giles in 1866: