HEADQUARTERS MILITARY DIVISION OF THE MISSISSIPPI, IN THE FIELD, BIG SHANTY, June 16, 1864.
General Halleck, Washington, D. C. :
General Thomas did not make the progress last night I expected. He found the enemy strongly intrenched on a line slightly advanced from a straight line connecting Lost and Kenesaw Mountain. I have been along it to-day, and am pressing up close. Shall study it, and am now inclined to feign on both flanks, and assault the center. It may cost us dear, but in result would surpass an attempt to pass round. The enemy has a strong position, and covers his road well, and the only weak point in the game is in having the Chattahoochee in his rear. If, by assaulting, I can break his line, I see no reason why it should not produce a decisive effect. I know he shifts his troops about to meet our supposed attacks, and thereby fatigues his men, and the woods will enable me to mask our movements.
W. T. SHERMAN,
Major- General Commanding.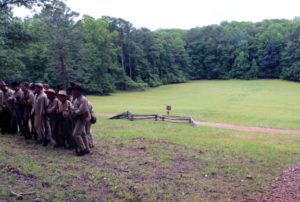 Cost were "dear" indeed to ~3,000 men and their families.